Marble Poolside Water Slide (80027-PS)
Marble Poolside Water Slide (80027-PS)
Dimensions: 10'W x 14'L x16'H
Product details
Feel like you are at a water park with Marble Poolside Water Slide. Designed especially to be setup next to your pool, this slide is perfect addition for any pool party.
You'll be sliding all day long with this one-of-a-kind pool slide. Swimmers enjoy a thrilling splash into the pool after plunging down the steep slide! The slide is covered with a mesh screen at the top, where kids will be getting ready for their turn to 'whoosh' down the slide between protective bumper walls. Marble Poolside Water Slide provides endless hours of enjoyment!
It's also a great attraction for community pools and swim club events or any summertime July 4th party plans!
Rental Terms
Price shown is usually calculated for up to 8 hour rental period, please select delivery and pickup times accordingly. Select a delivery time not less than 1 hour before your event start time. Please call 1 (888) 875-8180 for 1+ day rentals as well as overnight options. Please inform about cancellation within 72 hours before the rental date or else a cancellation fee up to the entire rental amount may apply. Delivery is included for all inflatables to our regular delivery areas. Areas outside our delivery areas, as well as ones with high traffic may require a delivery fee based in your address. Tables, Chairs, Tents and extra Party Equipment do not include delivery, an additional delivery charge may be applied.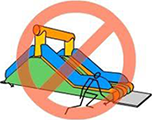 DO NOT ENTER THE INFLATABLE UNLESS IT IS SECURELY ANCHORED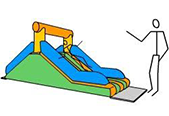 AN ADULT MUST SUPERVISE THE CHILDREN AT ALL TIMES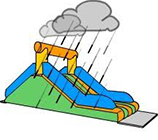 SWITCH OFF IN HEAVY RAIN OR WIND