DISCO DOME (77)
Product details
The dome is fitted with a Bluetooth enabled music system, meaning your guests can connect their phones to send music to the Bouncy Castle! The dome is also fitted with an LED lighting system.
PLEASE NOTE, THAT WE CANNOT TAKE THIS UNIT UP OR DOWN ANY STAIRS OR HILLS, THE PATH TO THE SETUP AREA MUST BE FLAT AND THE ENTRANCE TO THE SETUP AREA MUST BE AT LEAST 4 FT WIDE.
Rental Terms
Price shown is usually calculated for up to 8 hour rental period, please select delivery and pickup times accordingly. Select a delivery time not less than 1 hour before your event start time. Please call 1 (888) 875-8180 for 1+ day rentals as well as overnight options. Please inform about cancellation within 72 hours before the rental date or else a cancellation fee up to the entire rental amount may apply. Delivery is included for all inflatables to our regular delivery areas. Areas outside our delivery areas, as well as ones with high traffic may require a delivery fee based in your address. Tables, Chairs, Tents and extra Party Equipment do not include delivery, an additional delivery charge may be applied.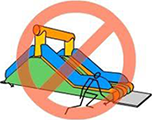 DO NOT ENTER THE INFLATABLE UNLESS IT IS SECURELY ANCHORED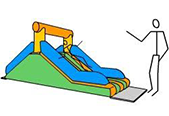 AN ADULT MUST SUPERVISE THE CHILDREN AT ALL TIMES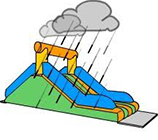 SWITCH OFF IN HEAVY RAIN OR WIND